Model NO.: LHNG

Prime Power: 8-4000kw

Rated Frequency: 50/60Hz

Rated Voltage: 400V/230V

Product Name: Gas Generator

Power Factor: 0.8laging

Exciting Method: Brushless

Gas Pressure: 3-20 Kpa

Overhaul Time: More Than 30000HS

Rated Speed: 1000-1500rpm

Trademark: LVHUAN

Transport Package: Exporting Standarded Packing

Specification: Standard

Origin: Shandong, China(Mainland)

HS Code: 85022000

Model NO.: LHNG

Prime Power: 8-4000kw

Rated Frequency: 50/60Hz

Rated Voltage: 400V/230V

Product Name: Gas Generator

Power Factor: 0.8laging

Exciting Method: Brushless

Gas Pressure: 3-20 Kpa

Overhaul Time: More Than 30000HS

Rated Speed: 1000-1500rpm

Trademark: LVHUAN

Transport Package: Exporting Standarded Packing

Specification: Standard

Origin: Shandong, China(Mainland)

HS Code: 85022000

KW Generator for Natural Gas Biogas Coal Gas LNG CNG LPGCE approved Product Description

1. +20 years professional manufacturer.

2. Wide power range: 10kw-5000kw gas generator, single or parallel running.

3. Multi-option of engine, alternator, control system and cooling system, PLCÂ control panel.

4. Long continuous running hours, 8000 hours per year.

5. CE & ISO approved

6. OEM provided

7. Holding many patents

8. Perfect service system(Sales, Installation, Debugging and after-sale service)

 9. Full Range: our products mainly include natural gas generator, biogas generator, biomass generator, coal gas generator, syngas generator, coal-bed gas generator, coke oven gas generator, diesel generator etc. 

 

Product FeaturesMain spare parts for gas generator:

1.Control system: America Woodward control system

2. Controller: ComAp, Deepsea, Woodward

3. Ignition system: American ALTRONIC, including:magneto, high-tension coil

4. Starting system: DC 24V electric motor. 

5. Mixer:Â IMPCO

6. Spark plug:Â STITT

 

Genset worksite requirements for gas generator

The worksite needs to meet following basic requirements:

 a)  Ambient temperature between -40ºC~40ºC;

 b)  Relative humidity less than 95%(35ºC);

 c)  Site elevation not higher than 3500m;

 d)  For outdoor installation, simple rain shelter is required.

 

Requirements for BiogasWithin 1m from pressure regulation valve of gas intake

1. Gas Temperature≤40ºC

2. Pressure 80~200kpa, Changing Rate≤1kpa/min

3. H2S≤20mg/Nm³

4. Content of CH4≥70%

5. Impurity Particle Size≤5μm, impurity content≤30mg/Nm³

6. Moisture Content≤40g/Nm³

Some Tips for gas generator

Higher content of sulfur and ammonia is not only seriously corrodes the spark plug, but also increase the lubricant's acid value, and then gen-set internal parts will be corroded partly. That will shorten the gen-set's life time. So the gas scrubbing is very important!

Technical Parameters for 10-600kw Natural Gas Generator Set
| | |
| --- | --- |
| Model Number | LHNG |
| Brand Name | LVHUAN |
| Prime Power | 8-480KW |
| Rated Power | 10-600KW |
| Gas Mixed Mode | Outside |
| Rated Speed | 1500rpm/1000rpm |
| Rated Frequency | 50/60Hz  |
| Rated Voltage | 400V/230VÂ  |
| Rated Current | 18-1080A |
| Phase | AC 3-Phase, 4 Wire |
| Gas Pressure | 80-200kpa |
| Intake Mode | Natural Intake/Supercharging and Inter Cooler |
| Voltage Stability | ≤±2% |
| Voltage Transient | ≤±10% |
| Voltage Stable Time | ≤1s |
| Heat Consumption | ≤9.8mj/kw.h |
| Lubricant Consumption | 1-1.3g/kw.h |
| Noise | 75-105dB(A) |
| Cylinder Number | 4/6/12 |
| Cylinder Bore | 100/105/135/138/190mm |
| Starting System | DC 24V Electric Motor |
| Sparking Mode | Spark Plug |
| Cooling Method | Circlulating Water Cooling |
| Lubricant Method | Passive and Flying Lubricant |
| Isolation Class | H |
| Protection | IP23 |
| Alternator | Siemens, Standford, Leroy Somer, Marathon, etc. |
| Power Factor | 0.8 Lagging  |
| Exciting Method | Brushless  |
| Colour | You Decide  |
| Certificates | ISO 9001:2008, CE |
| Warranty | 1 Year |
| Overheal Time | More Than 30000h |
| Type | Open  |
| Control System | Automatic Alarm System  |
| Size | 1450*700*1100mm~6000*1970*2735mm |
| Weight | 600kg~12000kg |
 

Applied Range for Natural Gas Generator

1. Oil Field

2. Industrial Zone

3. Petroleum Chemical

4. Using Natural Gas Generator Set as Standby Power Source

5. Supplying Power for Auxiliary Engine which work in Oil Well.

 

Service committee for gas generator:1. Pre-sale service:Â 

1) We will send our engineer to prospect the site of power station free of charge.

2) According to the situation of site, we will provide design drawings, such as power plant floor drawing, cooling system drawing, genset foundation, control room design, etc.

 

2. Sale service:

1) Operator training would be conducted by Lvhuan technicians during the process of commissioning or Factory training course in China,

2) Installation and commission of the genset would be instructed assisted by Lvhuan technicians at site.

 

3. After-sale service:

1) We have strong after-sale team, we will response within 24 hours and provide technical supports by phone or site guiding, help our clients to gain the biggeset profit.

2) For the quality problem, we will service for you free of charge during the guarantee period.

3) We  provide one year guarantee period and lifetime service.

 

Plentiful spare part supply for gas generator:

1. We have spart parts department, plentiful spare part supply for all genset model will guarantee genset lifetime running.

2.All parts were from original factories or professional factories,complete in specification, keep good quality.

 

FAQs for purchasing gas generator:1. Are you factory? and where is your factory?

Yes, we are. Our factory is located in Zhangqiu Longshan subdistrict, Jinan city, Shandong province, Welcome to visit our factory.

2. How to choose the right model?

To choose a right model, we need to know required continuous output power, local voltage and frequency and fuel (such as diesel, natural gas, biogas, biomass gas, coal gas, syngas, etc.). For biomass power plant and coal gas power plant, some clients may doesn't have gasification system, then we need information about raw material.

 

3. What's the genset warranty?

The warranty is one year. We will offer free service and spare parts during warranty period. Lifetime service will be provided by our trustworthy after-sale team.

 

4. How to do the maintenance?

Operator training will be provided by our technician. After training, local operator can do the basic maintenance by themselves according to our maintenance manual.

 

5. Will be operation training offered?

Yes, operator training would be conducted by our technicians during the process of commissioning or factory training course in China.

 

6. What's about the installation and commissioning?

Installation and commissioning of the genset would be instructed assisted by our technicians on site.

7. What is your regular delivery time?

20 days after order releasing.

Certificates & Patents for gas generator: We are committed to providing every product superior in quality.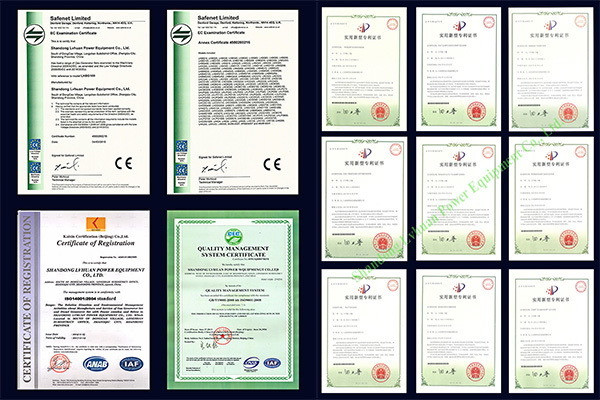 Professional Manufacturer for gas generator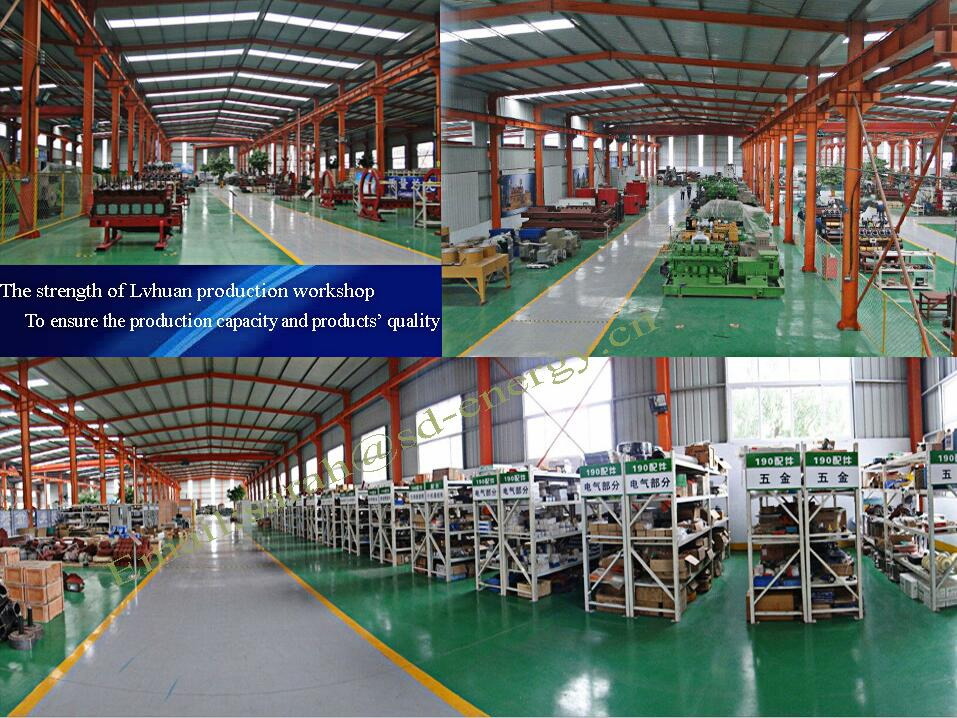 Showcase for gas generator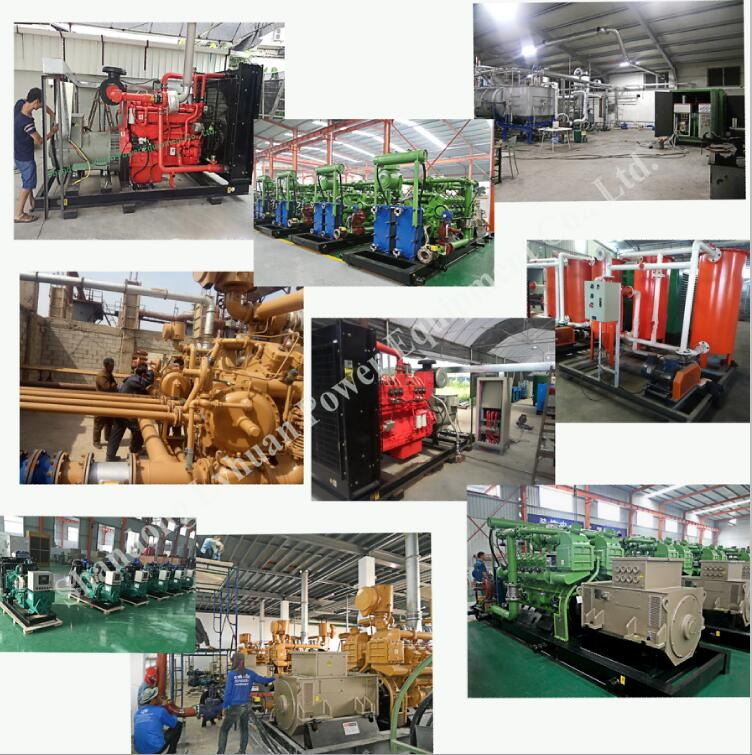 Customers Trust for Lvhuan Gas Generator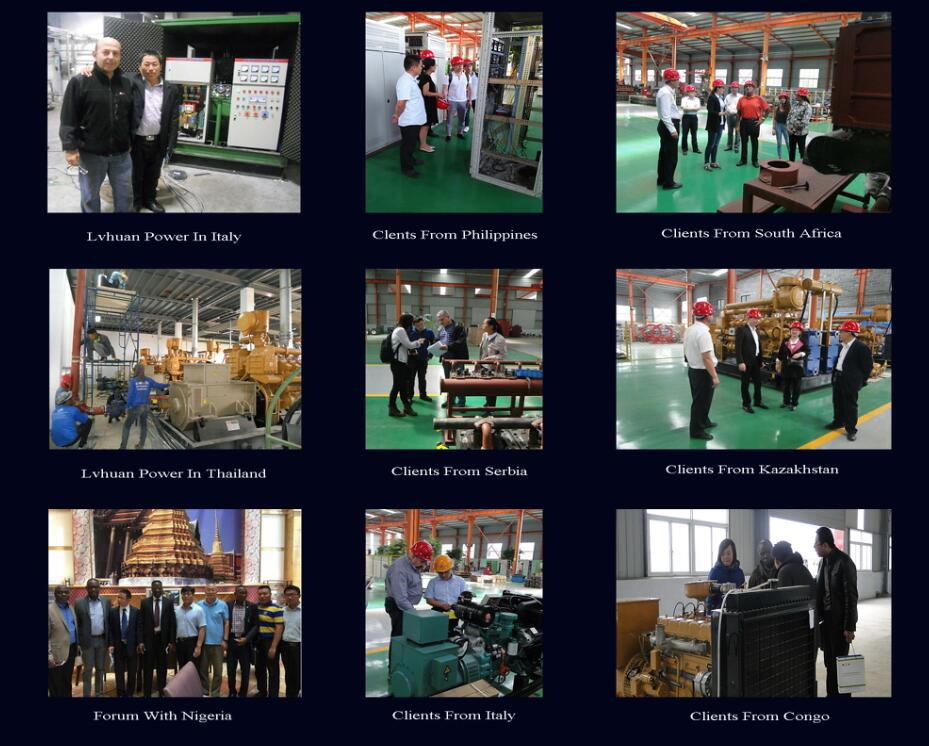 Professional Packing & Loading Team for Gas Generator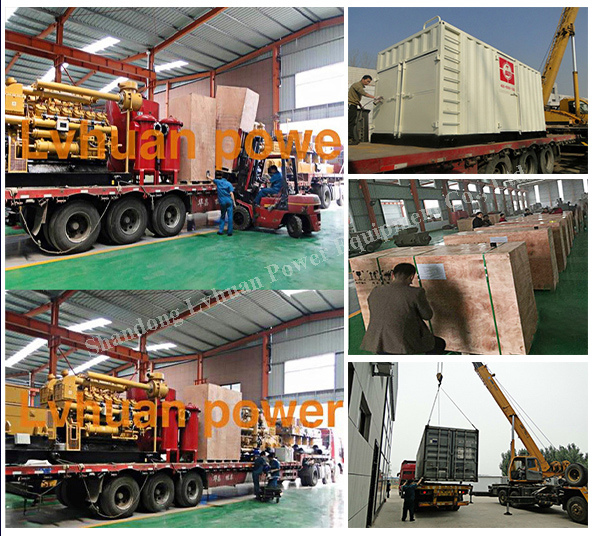 Please feel free to contact Sarah for any question.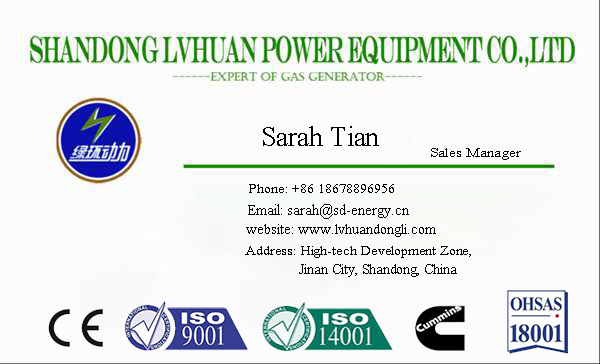 KW Generator for Natural Gas Biogas Coal Gas LNG CNG LPGCE approved Product Description

1. +20 years professional manufacturer.

2. Wide power range: 10kw-5000kw gas generator, single or parallel running.

3. Multi-option of engine, alternator, control system and cooling system, PLCÂ control panel.

4. Long continuous running hours, 8000 hours per year.

5. CE & ISO approved

6. OEM provided

7. Holding many patents

8. Perfect service system(Sales, Installation, Debugging and after-sale service)

 9. Full Range: our products mainly include natural gas generator, biogas generator, biomass generator, coal gas generator, syngas generator, coal-bed gas generator, coke oven gas generator, diesel generator etc. 

 

Product FeaturesMain spare parts for gas generator:

1.Control system: America Woodward control system

2. Controller: ComAp, Deepsea, Woodward

3. Ignition system: American ALTRONIC, including:magneto, high-tension coil

4. Starting system: DC 24V electric motor. 

5. Mixer:Â IMPCO

6. Spark plug:Â STITT

 

Genset worksite requirements for gas generator

The worksite needs to meet following basic requirements:

 a)  Ambient temperature between -40ºC~40ºC;

 b)  Relative humidity less than 95%(35ºC);

 c)  Site elevation not higher than 3500m;

 d)  For outdoor installation, simple rain shelter is required.

 

Requirements for BiogasWithin 1m from pressure regulation valve of gas intake

1. Gas Temperature≤40ºC

2. Pressure 80~200kpa, Changing Rate≤1kpa/min

3. H2S≤20mg/Nm³

4. Content of CH4≥70%

5. Impurity Particle Size≤5μm, impurity content≤30mg/Nm³

6. Moisture Content≤40g/Nm³

Some Tips for gas generator

Higher content of sulfur and ammonia is not only seriously corrodes the spark plug, but also increase the lubricant's acid value, and then gen-set internal parts will be corroded partly. That will shorten the gen-set's life time. So the gas scrubbing is very important!

Technical Parameters for 10-600kw Natural Gas Generator Set
| | |
| --- | --- |
| Model Number | LHNG |
| Brand Name | LVHUAN |
| Prime Power | 8-480KW |
| Rated Power | 10-600KW |
| Gas Mixed Mode | Outside |
| Rated Speed | 1500rpm/1000rpm |
| Rated Frequency | 50/60Hz  |
| Rated Voltage | 400V/230VÂ  |
| Rated Current | 18-1080A |
| Phase | AC 3-Phase, 4 Wire |
| Gas Pressure | 80-200kpa |
| Intake Mode | Natural Intake/Supercharging and Inter Cooler |
| Voltage Stability | ≤±2% |
| Voltage Transient | ≤±10% |
| Voltage Stable Time | ≤1s |
| Heat Consumption | ≤9.8mj/kw.h |
| Lubricant Consumption | 1-1.3g/kw.h |
| Noise | 75-105dB(A) |
| Cylinder Number | 4/6/12 |
| Cylinder Bore | 100/105/135/138/190mm |
| Starting System | DC 24V Electric Motor |
| Sparking Mode | Spark Plug |
| Cooling Method | Circlulating Water Cooling |
| Lubricant Method | Passive and Flying Lubricant |
| Isolation Class | H |
| Protection | IP23 |
| Alternator | Siemens, Standford, Leroy Somer, Marathon, etc. |
| Power Factor | 0.8 Lagging  |
| Exciting Method | Brushless  |
| Colour | You Decide  |
| Certificates | ISO 9001:2008, CE |
| Warranty | 1 Year |
| Overheal Time | More Than 30000h |
| Type | Open  |
| Control System | Automatic Alarm System  |
| Size | 1450*700*1100mm~6000*1970*2735mm |
| Weight | 600kg~12000kg |
 

Applied Range for Natural Gas Generator

1. Oil Field

2. Industrial Zone

3. Petroleum Chemical

4. Using Natural Gas Generator Set as Standby Power Source

5. Supplying Power for Auxiliary Engine which work in Oil Well.

 

Service committee for gas generator:1. Pre-sale service:Â 

1) We will send our engineer to prospect the site of power station free of charge.

2) According to the situation of site, we will provide design drawings, such as power plant floor drawing, cooling system drawing, genset foundation, control room design, etc.

 

2. Sale service:

1) Operator training would be conducted by Lvhuan technicians during the process of commissioning or Factory training course in China,

2) Installation and commission of the genset would be instructed assisted by Lvhuan technicians at site.

 

3. After-sale service:

1) We have strong after-sale team, we will response within 24 hours and provide technical supports by phone or site guiding, help our clients to gain the biggeset profit.

2) For the quality problem, we will service for you free of charge during the guarantee period.

3) We  provide one year guarantee period and lifetime service.

 

Plentiful spare part supply for gas generator:

1. We have spart parts department, plentiful spare part supply for all genset model will guarantee genset lifetime running.

2.All parts were from original factories or professional factories,complete in specification, keep good quality.

 

FAQs for purchasing gas generator:1. Are you factory? and where is your factory?

Yes, we are. Our factory is located in Zhangqiu Longshan subdistrict, Jinan city, Shandong province, Welcome to visit our factory.

2. How to choose the right model?

To choose a right model, we need to know required continuous output power, local voltage and frequency and fuel (such as diesel, natural gas, biogas, biomass gas, coal gas, syngas, etc.). For biomass power plant and coal gas power plant, some clients may doesn't have gasification system, then we need information about raw material.

 

3. What's the genset warranty?

The warranty is one year. We will offer free service and spare parts during warranty period. Lifetime service will be provided by our trustworthy after-sale team.

 

4. How to do the maintenance?

Operator training will be provided by our technician. After training, local operator can do the basic maintenance by themselves according to our maintenance manual.

 

5. Will be operation training offered?

Yes, operator training would be conducted by our technicians during the process of commissioning or factory training course in China.

 

6. What's about the installation and commissioning?

Installation and commissioning of the genset would be instructed assisted by our technicians on site.

7. What is your regular delivery time?

20 days after order releasing.

Certificates & Patents for gas generator: We are committed to providing every product superior in quality.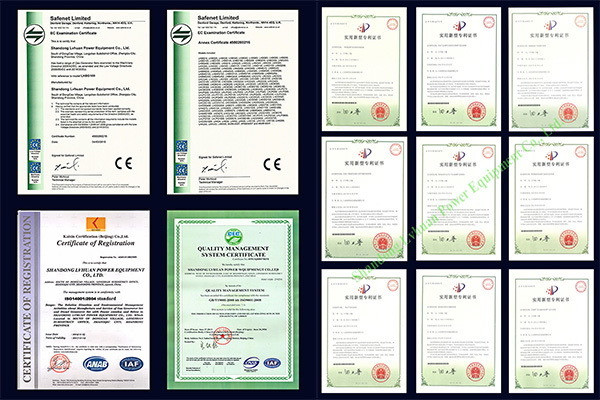 Professional Manufacturer for gas generator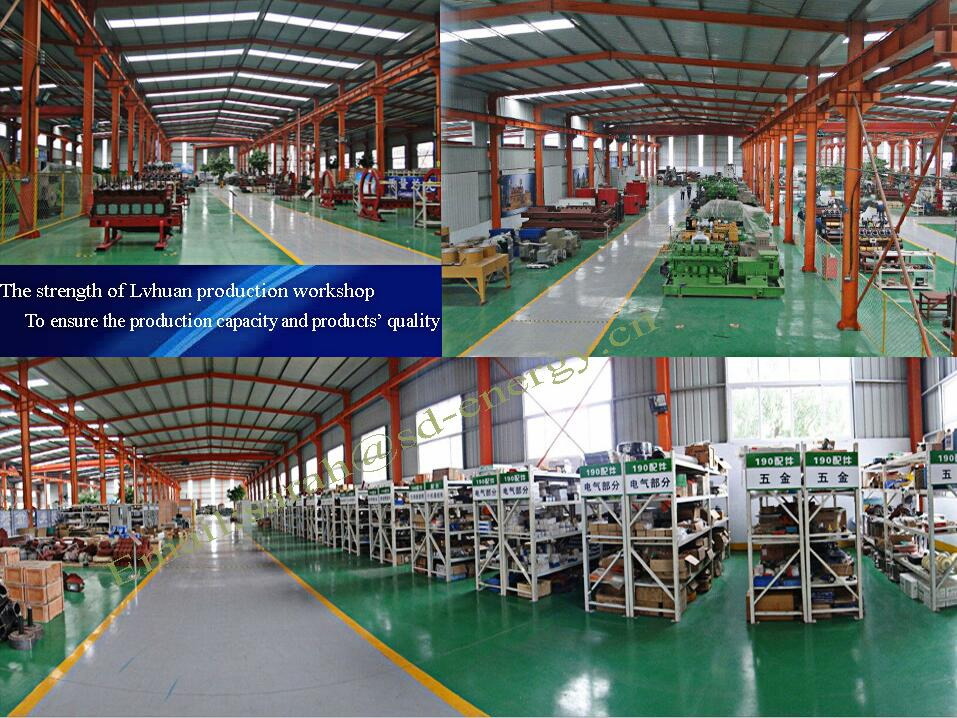 Showcase for gas generator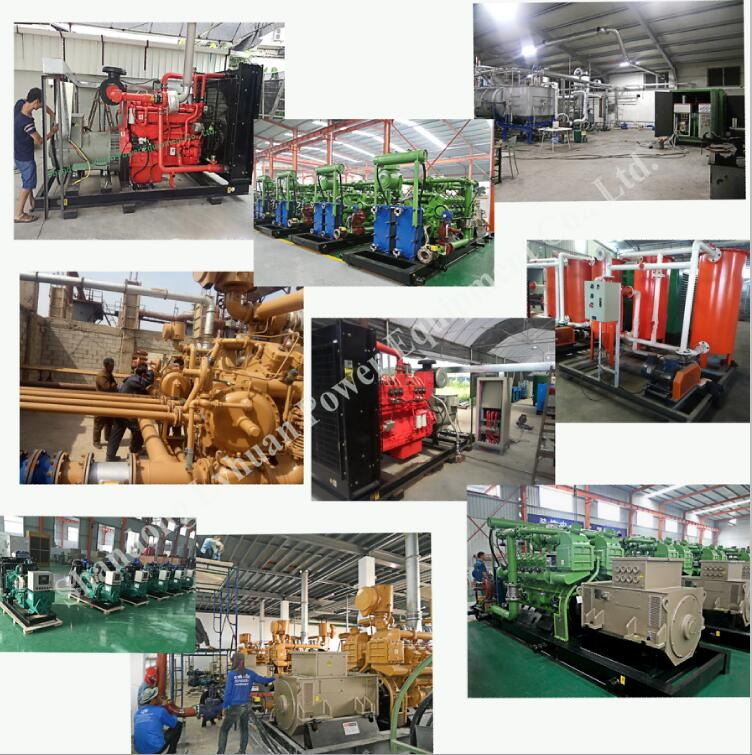 Customers Trust for Lvhuan Gas Generator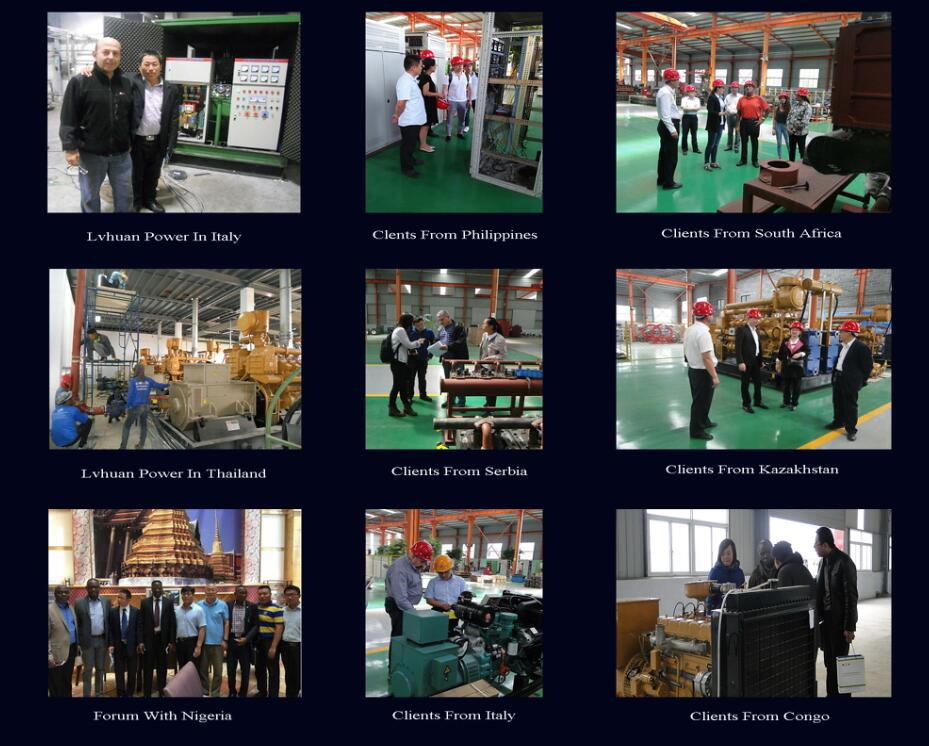 Professional Packing & Loading Team for Gas Generator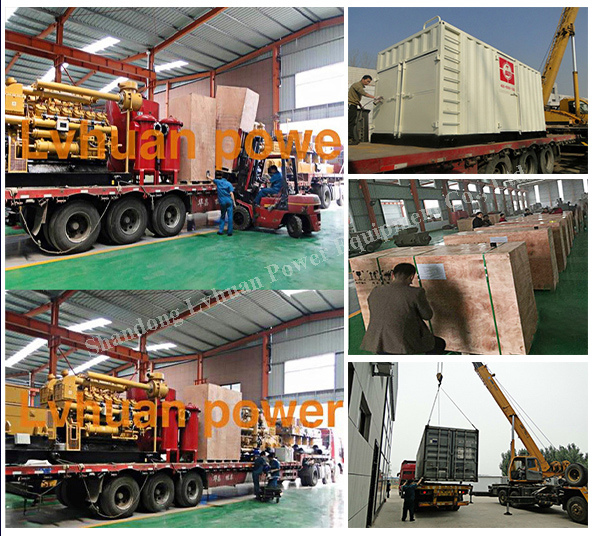 Please feel free to contact Sarah for any question.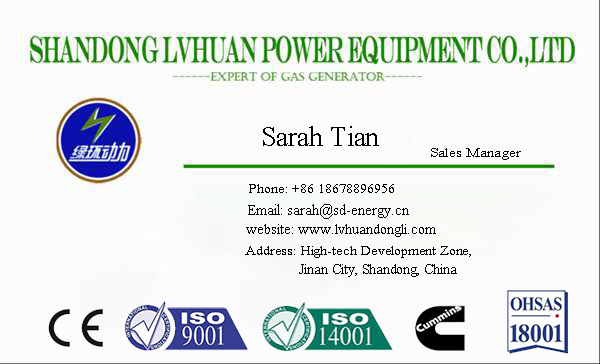 Dust Collector, also named as dust filter, dust removing device, there are mainly two functions of a dust filter, one is to collect the fine particles which are the finished product during the production process, so it can reduce the loss and increase the profit of the project, the other function is that it prevent the waste dust from entering the production factory, to keep a good environment from the workers it can be used in the following fields:

1. The fume and smoke treatment and particle removing system in metallurgy plant, alloy plant, steel works, fire-retardant factories and power stations.
2. Fume filtration, tiny particle recycle and division of liquid and solid in aluminum electrolytic analysis, tin, zinc, cooper and other rare metals.
3. Smoke filtration in garbage burning, coal-feed boiler and liquidized laid boilers.
4. Division of liquid, solid and tiny particle recycle in chemicals, coke, carbon, dyestuff, pharmacy and plastics.
5. Asphalt concrete mixture, cements, ceramics, building materials, lime and plaster.
6. Dust treatment, purification and collection in electronics, mining, foodstuff processing, flour and timber processing.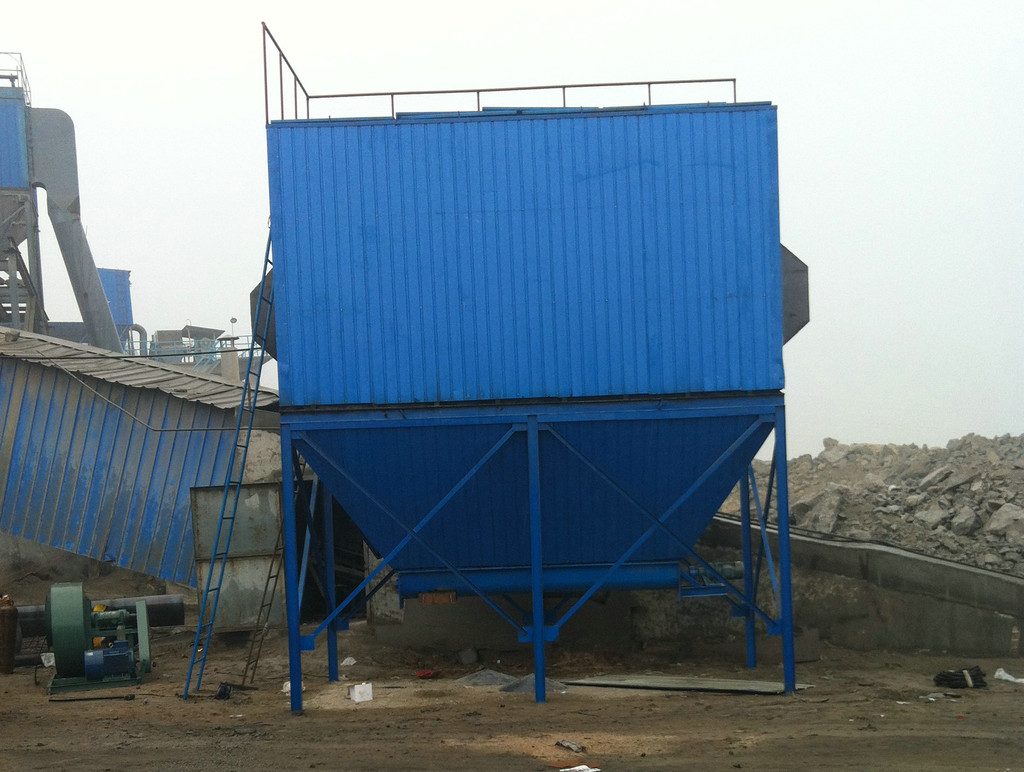 Dust Collector

Dust Collector,Cyclone Dust Collector,Saw Dust Collector,Portable Dust Collector

Henan Mingyuan Heavy Industrial Machinery Company Co., LTD. , https://www.heavyequipmentchina.com