The head protection device made of polyurethane integral shell foam material ensures the comfort and safety of the off-road vehicle

Leverkusen – When off-road vehicles are truly "in the right environment", even with outstanding suspensions, shock absorbers and four-wheel drive, road bumps are not prevented. However, passengers and drivers are required to be able to enjoy outdoor long-distance travel comfortably. If you need to ride in harsh environments, the car's internal facilities need to be both sturdy and comfortable. In addition to other features, the Suzuki Jimny model has another feature: the four head restraints are made of elastic polyurethane integral shell foam to ensure safe and comfortable driving. These flexible foam components are manufactured by Linallac Foams SL in the city of Linares, Spain, using Bayflex® K 5102 and Desmodur® PA 50. The supplier of these polyurethane raw materials is Bayer MaterialScience Baysystems Iberian Peninsula polyurethane system warehouse.
Dr. Noelia Mansilla, Bayflex®'s overall shell foam specialist, explains: "The polyurethane soft overall shell foam has a large degree of design freedom and is therefore easier to form a physiological shape, making it an ideal material choice for this application. When used in combination with polystyrene gaskets and metal fasteners, it absorbs the impact of bumpy roads. The flexible polyurethane housing also provides a corrosion-resistant surface. The superior wear resistance of the head restraint guarantees a longer service life than laminated products such as polyvinyl chloride (PVC). In addition, unlike textile coatings, polyurethane housings can be easily cleaned with standard cleaning products. This is a very important advantage because it can produce a lot of dirt and dust when passing through rough terrain. In this application the Bayflex® system is available in black, grey, green and other colors. Therefore, the head restraint can be decorated to match the color scheme of the car interior or the car body.
In addition to the outstanding performance in practical applications, the manufacturing process used by the head restraint also has many advantages. Ana Ruiz, director of quality control at Linallac Foams, commented: "In the manufacturing process, the molded parts consisting of the elastic foam core and the integral outer casing are completed in one step. The fact that the product can be removed from the mold after five minutes. Combining the aforementioned advantages guarantees the high productivity of the manufacturing process and meets the requirements of high quality and low cost in the automotive industry." The head protection device made of polyurethane integral shell foam was originally developed by Linalac Foams SL for the Anibal SUV made by Suzuki. The actual application proved to be very successful.

About BaySystems®:
Since March 1, 2007, Bayer MaterialScience has consolidated its entire global polyurethane systems business under the BaySystems® main brand. The move will have an impact on existing product brands in this area, including Baydur®, and the global network of polyurethane systems companies.

About Bayer MaterialScience:
Bayer MaterialScience is one of the world's largest polymer producers with 2006 sales of €10.16 billion (except HC Stark and Wolff Walsrode). Bayer MaterialScience's main business areas are the production of high-tech polymer materials and the development of innovative solutions for many common products in everyday life. Its main consumers come from the automotive, electrical engineering / electronics, construction, sports and leisure sectors. As of the end of 2006, Bayer MaterialScience has approximately 30 production sites worldwide with more than 14,900 employees. Bayer MaterialScience is part of the Bayer Group.

Flat Bags on Roll is commonly used in every industry, such as electronically products, accessories,household, cosmetic, commodity, stationery, toy, fruits,vegetable and food products etc. Specially in packing of fresh fruits, fresh vegetables, meat, seafood, cakes,chocolates, candy, cookies,biscuits and so on.

The bags could be in big roll for industry and supermarket or in small or for household.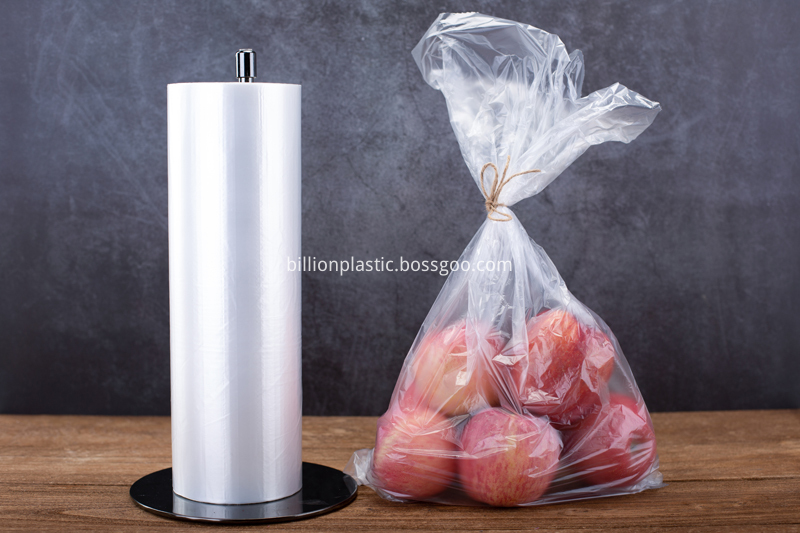 Flat Poly Bags,Flat Plastic Bags,Flat Polypropylene Bags,Flat Poly Bags On Rolls,Roll Bags,Plastic Roll Bags,Freezer Bag Rolls

BILLION PLASTIC MANUFACTURING CO.,LTD, JIANGMEN , https://www.jmflatbag.com