On March 22, 2018, US President Trump signed a memorandum based on the "301 Investigation Report" submitted by the U.S. Office of Trade Representatives (USTR), which plans to impose a 25% tariff on some 60 billion U.S. dollars of Chinese imports.

The specific plan in the memorandum will be publicized for 30 days. At the same time, the United States will sue China for WTO related issues. In addition, as a means of chain, the U.S. Department of the Treasury will introduce new plans in the next two months to restrict Chinese companies from investing and acquiring U.S. companies.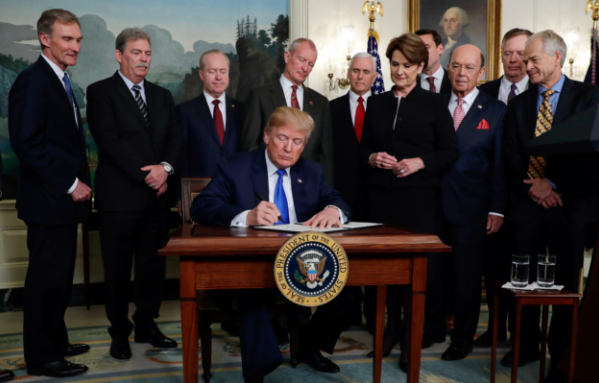 After President Trump signed the memorandum, China immediately issued countermeasures. On March 23, 2018, the Ministry of Commerce of the People's Republic of China urgently issued a list of suspension and concession products for the US import of steel and aluminum products 232 measures. It is proposed to impose tariffs on products imported from the United States, including fresh fruits, dried fruits and nuts, involving quotas. 3 billion US dollars, the same publicity and opinion collection. In addition, on March 26, the Ministry of Commerce investigated the anti-dumping of imported phenol-based models originating in the United States and other places as a means of concurrence.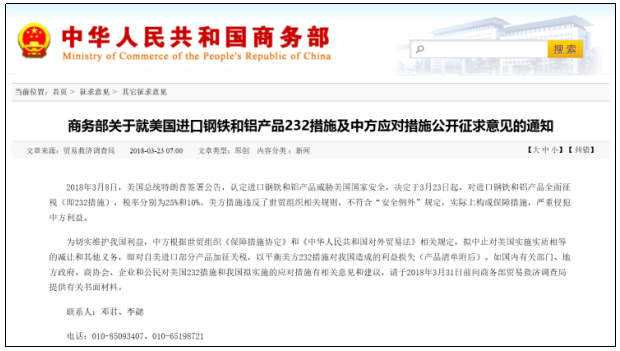 Ever since, the Sino-U.S. trade battles have come and gone, and the eyes of the whole world have been attracted by the confrontation between the veteran overlord and the new generation of forces.

The spread of a Sino-U.S. trade war confrontation map on the Internet has even made people eat melons. They have stated that "this is a PK of a modern country and an agricultural country" and "the prosperity of the national power is just around the corner".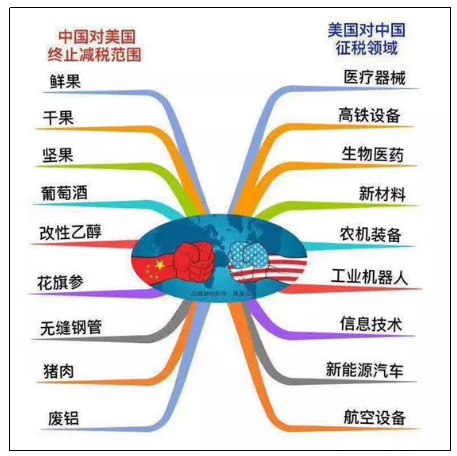 Indeed, the United States has proposed to impose tariffs on 1,300 Chinese high-tech products, including new energy vehicles. But does this really represent that our strategic emerging industries represented by new energy vehicles have become so powerful that old American powerhouses have retreated? And must it also protect itself through tariff measures?

Zhidian's opinion on this is: Not necessarily so, not necessarily from high!

I. The overall trade structure between China and the U.S.

First of all, let's take a look at China's overall import and export situation in 2017. According to customs statistics, in 2017, domestic exports of goods totaled 15.33 trillion yuan (RMB, the same below), imports of goods were 12.46 trillion yuan, and the trade surplus was as high as 287 million yuan.

Next, we look at the Sino-U.S. trade situation. In 2017, Sino-U.S. bilateral trade volume reached 3.92 trillion yuan, of which China exported 2.91 trillion yuan to the United States, accounting for 19% of China's exports, ranking first. The result of such a huge export quota is that the Chinese surplus is as high as 1.87 trillion yuan, accounting for 65.2% of the total trade surplus.

Table 1 Results of China's External Import and Export Statistics in 2017

Country and region

Export volume

(100 million yuan)

Increased from the previous year

(%)

Share of total exports

(%)

Import amount

(100 million yuan)

Increased from the previous year

(%)

The proportion of total imports

(%)

EU

25199

12.6

16.4

16543

20.2

13.3

United States

29103

14.5

19.0

10430

17.3

8.4

Asean

18902

11.9

12.3

15942

22.8

12.8

Japan

9301

8.9

6.1

11204

16.3

9.0

China Hong Kong

18899

-0.4

12.3

495

-54.9

0.4

Korea

6965

12.6

4.5

12013

14.4

9.6

Taiwan, China

2979

12.2

1.9

10512

14.5

8.4

Brazil

1962

35.2

1.3

3974

31.4

3.2

India

4615

19.8

3.0

1107

42.4

0.9

Russia

2906

17.8

1.9

2790

31.0

2.2

South Africa

1004

18.4

0.7

1649

12.1

1.3

We may wish to take a closer look at the specific export of goods. In 2017, the largest amount of domestic exports was automatic data processing equipment and its components, clothing, and wireless telephones. The single amount exceeded RMB 800 billion; however, according to the "classical industries and emerging industries", a rough classification was conducted, and the former's export quota reached The amount of 2.9093 trillion yuan, the latter is only 218.48 billion yuan, and the gap between the two is as high as more than 7,000 billion yuan. China's trade-oriented exports to the United States that are traditionally low in technological content have still not been effectively improved.

Table 2 Number, value and growth rate of major commodity exports in 2017

product name

unit

Quantity

Increased from the previous year

(%)

Amount

(100 million yuan)

Increased from the previous year

(%)

Coal (including brown coal)

10,000 tons

817

-7.0

75

64.7

Steel

10,000 tons

7541

-30.5

3700

3.1

Textile yarns, fabrics and articles

-

-

-

7441

7.4

Clothing and accessories

-

-

-

10656

2.3

Footwear

10,000 tons

450

6.5

3269

5.0

Furniture and its parts

-

-

-

3385

7.4

Automatic data processing equipment and its components

Wantai

154208

-3.1

10710

18.1

Handheld or car radiotelephone

Wantai

121087

-4.8

8503

11.3

container

Ten thousand

300

50.6

567

103.2

LCD panel

Ten thousand

193367

1.6

1737

2.3

car

10,000

104

43.1

898

27.2

In this case, mobile phones and automatic data processing equipment and their parts and components are two major items, but there are export products such as Apple mobile phones and other OEM products, and the core profit is not in China. Therefore, it is not correct to be complacent about the Sino-U.S. trade situation and it must not be confused by the situation map. It must be clearly understood that Trump's list of conscripts, at least for the time being, does not occupy the dominant position of China's foreign exports at all. It cannot be overstated.

In this regard, we can sort out the three main reasons for Trump to launch a trade war: First, Trump wants to reduce the trade deficit, which is the near-term goal; Second, Trump wants to guide the US advanced manufacturing backflow through tariffs and reduce the unemployment rate. This is a mid-term goal. Third, Trump wants to suppress the top ten strategic emerging industries (highly-compared list) planned for "Made in China 2025". This is a long-term goal.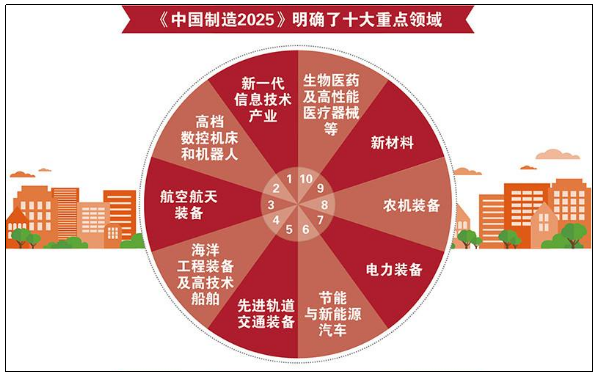 In the article, the trade war was already clear when Trump campaigned and took office, but it was only said that the previous period had been hampered by things like the "through Russia" and the "nuclear issue of the DPRK", and now it finally freed up their hands. , ready to grasp the main achievements.

Having understood this fundamental aspect, we will not be biased in the analysis of the impact of the Sino-US trade war on cars and new energy vehicles.

II. Status and Impact of China's Automobile Import and Export

It can be seen from Table 2 that in 2017 China's total exports of cars to the outside world was only 89.8 billion yuan, compared with the total amount of automobiles imported by China in 2017 (3422 billion yuan), a total of 252.4 billion yuan difference between the two. . Therefore, the first fact to be made clear is that China is an uncompromising deficit country in the automotive sector.

Table 3 Quantity, amount, and growth rate of major commodity imports in 2017

product name

unit

Quantity

Increase over the previous year (%)

Amount

(100 million yuan)

Increase over the previous year (%)

Cereals and cereal flour

10,000 tons

2559

16.4

440

17.2

Soybean

10,000 tons

9553

13.8

2688

19.6

Edible vegetable oil

10,000 tons

577

4.4

307

11.3

Iron ore and its concentrate

10,000 tons

107474

5.0

5175

35.0

Alumina

10,000 tons

287

-5.3

75

29.5

Coal (including brown coal)

10,000 tons

27090

6.1

1536

63.7

crude

10,000 tons

41957

10.1

11003

42.7

Refined oil

10,000 tons

2964

6.4

982

33.3

Primary shape plastic

10,000 tons

2868

11.5

3284

20.1

pulp

10,000 tons

2372

12.6

1039

28.5

Steel

10,000 tons

1330

0.6

1027

18.2

Unwrought copper and copper

10,000 tons

469

-5.2

2115

21.3

integrated circuit

Billion

3770

10.1

17592

17.3

car

10,000

124

15.7

3422

16.3

Specific to the scale, in 2017 China exported a total of 891,000 vehicles, although the growth rate was as high as 25.8%, but it has stabilized at between 700,000 and 900,000 vehicles for a longer period of time.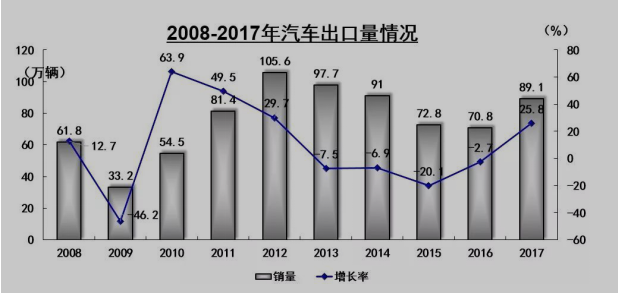 *Data Source: China Association of Automobile Manufacturers

Looking at the scale of imports, in 2017, China imported a total of 1.216 million cars (1.11 million vehicles in January-November). From the perspective of scale alone, the domestic import and export balance has fluctuated between 100,000 and 400,000 units over the years, but since 2009, the export scale has never exceeded imports.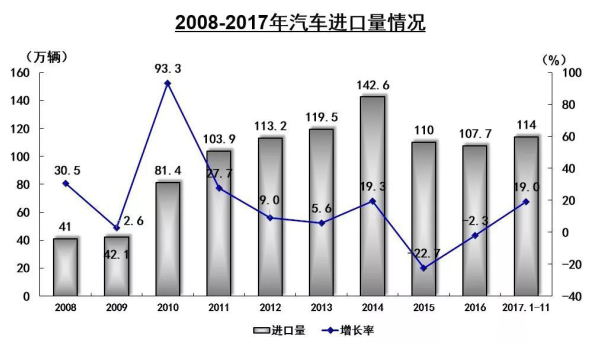 *Data Source: China Association of Automobile Manufacturers

When it comes to specific countries, the result is even more shameful. Of the imported cars in 2016, China imported 243.47 million units from the United States, accounting for 23.4% of the total; in the first half of 2017, it reached 144,358 units, surpassing Japan's number one position, accounting for 24.9% of the total.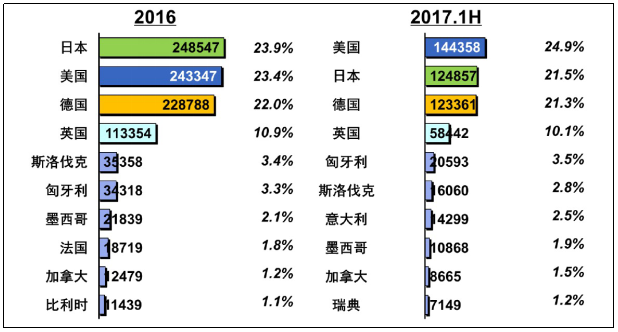 *Data from: National Information Center

Falling over the specific brand, in 2017 China imported from the United States, Lincoln high-end luxury brands accounted for 64,738. Others such as the Raptor F150, Cadillac, and Mustang are also expensive guys with hundreds of thousands of dollars and even millions.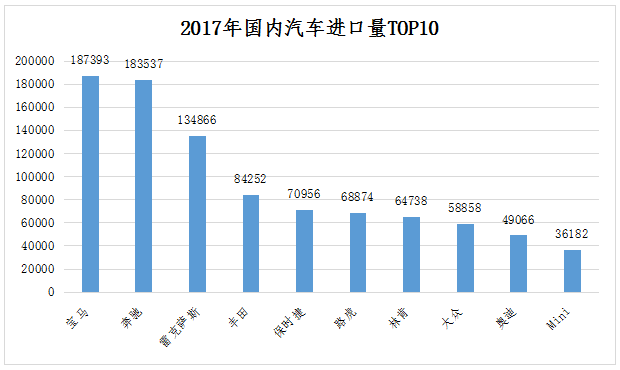 Looking at the domestic export situation, the total volume of exports to the United States in 2017 was 20,999 vehicles, which was less than one-tenth that of the US exports to China.

Table 4 Distribution of Chinese Automobile Exports in 2017

Rank

Country

Export amount

Increase over the previous year (%)

1

Iran

233159

57%

2

Mexico

56620

1064%

3

Chile

38782

62%

4

Russia

21075

-20%

5

United States

20999

197%

6

Ecuador

16821

247%

7

Colombia

15523

-18%

8

Egypt

14420

-53%

9

Peru

12639

55%

10

Brazil

10512

373%

Specific to the brand, the top rankings in 2017 were Chery, JAC, Great Wall, and Chang'an, with exports of 108,000, 65,100, 40,000, and 33,000. The exported models are generally priced at around 5-10 million yuan. The passenger car product with a cost of more than 150,000 yuan is basically 0, and only a few commercial vehicles have a higher unit price.

From the product, we can see the same flaws. In 2017, the most exported products were small-displacement cars under 1.5L, and the number reached 280,000; the number of small-sized electric vehicles also reached more than 10, and the actual bicycles High-value, high-displacement luxury cars do not have the same roots.

Table 5 List of Major Automobile Export Products in China in 2017

Major export commodities

Export volume (10,000 vehicles)

Same as

(%)

proportion(%)

average price

(yuan/vehicle)

Year-on-year (%)

Gasoline cars, 1000ml< displacement ≤1500ml

28.0

72.0

26.9

50853.4

13.7

Gasoline cars, 1500ml< Displacement ≤2000ml

20.2

42.5

19.5

78625.9

19.2

Mainly used for manned vehicles only with a drive motor

10.3

.

9.9

7171.1

.

Diesel trucks, total vehicle weight ≤ 5 tons

6.4

7.3

6.2

59658.6

8.2

Gasoline trucks, total vehicle weight ≤ 5 tons

5.2

19.4

5.0

40579.1

2.5

In other words, the United States is a major exporter of automobiles to China, both in terms of scale and value, and China is in a serious disadvantage in this respect. It is impossible for a dominant country to protect a disadvantaged country by adopting additional taxation, and it is impossible to say it within at least 10 years. Furthermore, the United States does not have any need for China to move its knife in the field of automobile import and export that has a wide gap.

So what does Trump really want to do in the automotive sector? According to his statement: "The United States auto import tariff rate is 2%, while China's is 25%, the United States is at a disadvantage." This is simply a confusing view. China's export volume and the value of that bicycle have little impact on U.S. imports and the U.S. auto industry, which means that if we reduce the figure from 2% to 0%, there will not be any major changes.

Trump's real core appeal is that China lowers its tariff by 25%! This tax rate is reduced to 2%. The best is equal to 10%. It is acceptable to lower it to 15%, and it is strongly agreed with 25%. The drastic reduction in tariffs will result in the Chinese mainland's auto industry in the current critical period of high-end, ceiling breakthroughs, suffered a strong suppression and impact of low-priced imported cars, and thus died halfway.

This is not without reason. Even according to the currently relatively inexpensive method of taxation on parallel imported cars, the comprehensive tax rate = the complex superposition of tariff rates, consumption tax rates, and VAT rates is 143.75%. It can be seen that the 25% tariff rate is ranked first in the calculation, so it is extremely significant in the 143.75% comprehensive rate. Therefore, if a Ford Mustang worth 300,000 yuan or more is taken care of by a reduced tariff, its price can be reduced to tens of thousands of yuan. This is very easy, and the impact is enormous.

As for whether tariffs will be adjusted and how they will be adjusted, they will be put at the end of the text for analysis and prediction.

III. Import and Export of New Energy Vehicles in China

First of all, look at the import situation. In 2017, a total of 63,351 new energy vehicles (including hybrids) were imported into the country, of which 16,727 were imported from the United States, and the sales of one brand alone was as high as 13 billion yuan.

Compared with our new energy vehicle export situation, in 2017, China exported a total of 1321 new energy vehicles (including mixed-use vehicles), with a total export value of only 76.94 million yuan, of which less than one-third were estimated to be exported to the US market. Compared with Tesla's huge body size, China's new energy vehicles exported to the United States are described as too numerous.

Table 6 China's New Energy Vehicle Exports in 2017

Major export commodities

Export volume (vehicles)

Amount (ten thousand yuan)

Pure electric passenger car

214

165

Plug-in hybrid passenger car

1042

6155

Mixed passenger cars

28

143

Pure electric bus

37

1231

total

1321

7694

One more thing to consider is that China's new energy car companies are located in the United States. At present, there are BYD, JAC, Ankai bus, SF motors, etc., of which BYD as the bulk of its production base in the United States is mainly responsible for the production of pure electric passenger cars, the annual production capacity of about 1,500 vehicles, has now occupied the United States pure electric passenger car market60 -80% of the market share, but this has nothing to do with the import and export, so the relationship with the tariff is not great.

From this point of view, new energy vehicles still have a huge deficit relationship between China and the United States. We have no pride in capital at this point, and it is currently difficult to be directly affected by the trade war. The most critical issue has come. Trump is still selling cheap products. What exactly does this product contain?

The current export volume is small and the relationship between the United States and China is not big. The rest of the points are only the future expectations. With strong policy support, sales of new energy vehicles in China reached 777,000 units in 2017, an increase of 53.3% year-on-year, accounting for 2.7% of the market. This figure is significantly higher than the 477,000 units in the United States over the same period.

In accordance with the development trend of the domestic new energy automobile market, it is not difficult for the new energy automobile market to exceed 7 million vehicles in 2025. The huge scale will translate into huge volume advantages, and will have a strong supporting role in reducing costs, improving technology, and accumulating resources.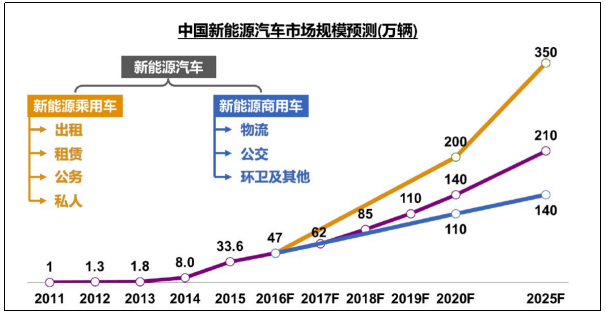 *Data from: National Information Center

Not only on the scale, the product structure is gradually showing its advantages. Currently, domestic new energy vehicles not only go hand in hand, but also have a perfect layout of A00/A0/A/B/SUV/MPV as the main passenger vehicle market. The cruising range is sufficient from 100-451km, and the price is from Tens of thousands of yuan to more than 30 million evenly distributed, high-end brands are also springing up.

OK, the data comes to speak. In the whole year of 2017, the Ministry of Industry and Information Technology released a total of 12 new energy vehicle models recommended by the Ministry of Industry and Information Technology, and a total of 224 manufacturers were shortlisted for 3,233 new energy vehicles. What is the concept of 3233 models? This is more than 100 times the sum of the number of new energy vehicles currently released by US companies.

Table 7 1-12 List of Recommended Types of Vehicles in 2017

batch

Pure electric

Insert and mix

The fuel cell

Subtotal

1

124

60

1

185

2

157

44

0

201

3

505

128

1

634

4

407

44

2

453

5

264

42

3

309

6

202

48

0

250

7

249

33

0

282

8

249

twenty one

3

273

9

235

13

3

251

10

155

3

1

159

11

152

7

6

165

12

106

12

2

120

Poor models are on the one hand, and over-high-end models are another aspect. Imagine that even Model 3 should be worth nearly 300,000 yuan. In the future, how can we fully compete with China's tens of millions and more than 100,000 yuan? It should be noted that the main consumer groups are not luxury cars and are still the family car market. At that time, the low tariff of 2% in the United States will cause China's electric vehicles to plunge into the United States, and even if it does not take the import route, it will go to the United States to build a factory. U.S. companies such as Ford and GM can hardly resist this fierceness. offensive. The classic case that Toyota and other Japanese cars took advantage of the oil crisis to launch a fuel-efficient car to successfully open the U.S. market may have to reappear in a few years, but only the protagonist has become China.

This is Trump's most unwilling to see. So his purpose is to: Suppress China's new energy car market when it has not yet fully established its advantages! After China's new energy vehicles have started, block them with high tariffs! The pressing point of repression will be the Free Trade Zone. Trump will certainly appeal to the Chinese side: the free trade zone will grant two-way zero-tariff treatment to support US-funded enterprises including Tesla to establish a wholly-owned factory in China, and thus to China. Autonomous new energy vehicles form a mid-level suppression of 15-25 million yuan.

IV. Analysis of Import and Export of Automobile Parts and Impact

Looking at the total import and export dishes, in 2017, domestic exports of auto parts totaled 48.74 billion U.S. dollars, an increase of 8.2% year-on-year; cumulative import value was 37.048 billion U.S. dollars, an increase of 7.09% year-on-year, and a trade surplus was realized.

From the product point of view, in 2017, China exported engines and other key parts for the 118.43 billion US dollars, accounting for 18.9%; zero annex exports amounted to 36.895 billion US dollars, accounting for 58.8%, indicating that exports are mainly low-end pieces. In the same period, China imported 12.513 billion U.S. dollars worth of gearboxes and 1.794 billion U.S. dollars worth of engines, totaling US$ 22.524 billion, accounting for 60.8% of the total import value, indicating that imports are dominated by high-end pieces.

From a country perspective, in 2017, China exported a total of US$12.819 billion worth of auto parts to the United States, mainly tires, driveshafts, etc. The export quota for new energy auto parts was extremely small, and the export value of batteries and motors was approximately zero.

Table 8 Distribution of China's auto parts exports in 2017

Rank

Country

Accounting

1

United States

26.3%

2

Japan

7.7%

3

Russia

5.8%

4

Germany

5.5%

5

Korea

4.4%

6

Mexico

4.3%

7

Thailand

3.4%

8

India

3.4%

9

Brazil

2.6%

10

Italy

2.6%

Obviously, if the Sino-U.S. trade war begins, new energy auto parts will not be affected much in the short term, and in the medium to long term, they will be forced to consider establishing a new production base in the United States to achieve local production. Ramp made backflow. The traditional auto parts and components will be quickly impacted. Affected by the high tariff rate of 45%, the market share will be extremely high in terms of minutes and minutes. It is also a surprise that the mid- to long-term investment in the United States is expected.

V. Scenario prediction

Before making scenario predictions and strategic deductions, we first sum up some of the points mentioned above:

• Trump's strategic goal of launching a trade war is to reverse deficits, return manufacturing, and suppress new industries in China.

· As a representative of the manufacturing industry, the automobile industry is extremely powerful and is the main field in which Trump launched the trade war.

• The current pattern of Sino-U.S. auto trade is the U.S. trade surplus, the Chinese deficit, and Trump's pursuit of an expanded victory. In the meantime, China will drastically reduce its auto import tariff even with the United States' 2%.

In the area of ​​new energy vehicles, Trump has already seen the limitation of the uni- ization and high-end of electric vehicles in the United States. He also saw the possibility of a large-scale rise of electric vehicles in China. Therefore, he hopes to suppress it as much as possible. Offensive pawns are a two-way zero tariff in the free trade zone. With sole proprietorship, defensive pieces are high tariffs.

In the field of automotive parts and components, Chinese traditional parts and components exported to the United States are vulnerable to huge impacts in the short term, but new energy components are not affected temporarily. The similarities between the two are that a high tariff of 45% will force the parts and components companies to Transferred to the United States. As the parts and components technology is in an advanced position, the United States does not jealous of Chinese-funded enterprises from having an impact on their local brands.

OK, sort out Trump's ideas. Let's make a deduction of the situation.

1. The two sides succeeded in peace talks

The basis for the success of the peace talks must be the exchange of interests between the two parties. In other words, Trump is willing to suspend, and the deficit, return, and suppression have at least one satisfaction. In other words, either China has drastically reduced tariffs, or the Chinese government has introduced measures to promote auto parts companies to invest in the United States to build factories, or China has opened free trade zones with zero-duplex tariffs and wholly-owned factories.

In a comprehensive view, Zhidian Automobile infers that the three possible rankings are to give priority to opening up free trade zones with two-way zero-tariff and sole proprietorship, because the scale is small and the cycle is long; the second is to promote auto parts companies to build plants in the United States, because it does not hurt. Bone-moving bones can also be used for cage-changing birds; the third is to drastically reduce tariffs, because the involvement is too large and can cause chain reactions.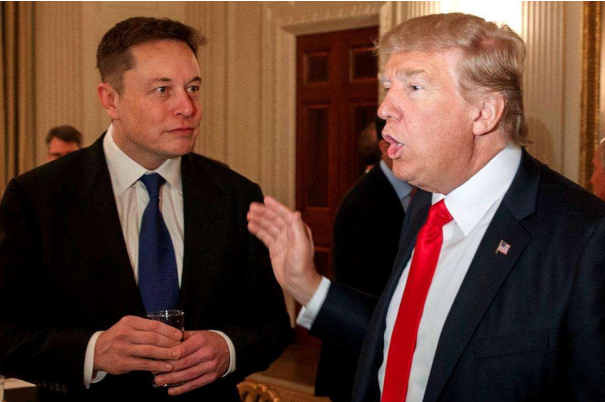 2. Both sides failed to negotiate peace talks

Very simple, the Chinese did not agree. The result of this is that the two sides will open the game directly after the "comment of comment period" ends, and will be intensified. The proliferation will continue to spread, and finally until one side is in distress and takes the initiative to admit defeat. Obviously, this is an outcome that neither side wants to see, but it does not mean that it will not happen.

From this point of view, in the United States, the first one to be affected will be the US car companies. Not only are imported cars subject to tariffs, consumption tax, and luxury tax, but also local American car companies are vulnerable to policy pressures; It will be Tesla's desire to seek new energy vehicles in the Chinese market and lose the huge Chinese market. Tesla's capital-chain breakup is not impossible. It is very easy for Musk to become Jiaske.

In China, the short-term impact will be on traditional auto parts. High tariffs will directly erode their share of exports. In the medium-to-long term, the new energy vehicles and parts and components companies will be affected positively. Both will be in the United States. Under the dual pressures of low income taxes and high tariffs, they went to the United States to build factories and left the profits completely in the United States, thereby realizing Trump's manufacturing return and high-end suppression.

After the analysis, Zhidian Automobile has the following three suggestions:

First, to avoid trade wars as much as possible, the state is not easy, enterprises are not easy, and it is impossible to injure the enemy with one thousand self-inflicted damages. It is even more necessary in China's rising critical period.

The second is to learn to use chips in a rational manner. Freeing the free trade zone and setting up a wholly owned company can be used as a binding policy, in exchange for Trump's retrogression in the automotive field. At the same time, it is necessary to encourage independent brands to form a downfall on Model 3. However, the full and drastic reduction of tariffs should be avoided as much as possible.

The third is to attack the key point after they have to open a trade war. U.S. politics is always a gold sovereign politics. It is necessary to focus on the targeted and precise blows to the main gold group behind Trump in exchange for Trump's lead in retreating. Unfortunately, these gold owners do not include GM or Ford.

DAYUE is one of the best precision parts manufacturers and suppliers in China.

We provide CNC Turning services, CNC Milling services, grinding services, EDM services, WEDM and other services to the world. After 25 years of development, DAYUE has accumulated very rich experience in the field of precision parts manufacturing. With the development of the market, we have three machining factories in China.

Our products are distributed in molds, hydraulic valves, medical treatment, hair transplantation, and machinery. , Oil and gas, industry, mining, electrical, automation, aerospace, military and other fields. Major companies in these areas in China have gradually relied on DAYUE's products and the added value.

OEM/ODM Components,Machinery Components Manufacturer,CNC turning service manufacturer,CNC milling service manufacturer,Mold components supplier

Dayue Precision Technology (Dongguan) Co., Ltd. , https://www.dayuechn.com